August 13, 2014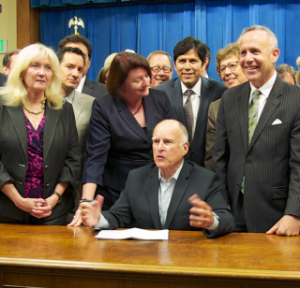 SACRAMENTO – Governor Edmund G. Brown Jr. today signed legislation to put a comprehensive water bond before voters this November.
"Water is the lifeblood of any civilization and for California it's the precondition of healthy rivers, valleys, farms and a strong economy," said Governor Brown. "With this water bond, legislators from both parties have affirmed their faith in California's future."
The legislation signed by Governor Brown, AB 1471 by Assemblymember Anthony Rendon (D-Lakewood), replaces the current $11.1 billion water bond on the November ballot. The bipartisan legislation passed the Senate 37-0 and the Assembly 77-2. The new bond includes $7.12 billion in new debt, plus the repurposing of existing unspent bond funds of $425 million for a total of $7.545 billion. None of the repurposed bond funds will be taken from existing projects. The measure will be Proposition 1 on the November ballot.
The bond provides for water use efficiency and recycling, groundwater cleanup and management and $2.7 billion for additional water storage. It invests in safe drinking water, particularly in disadvantaged communities, and provides for watershed restoration and increased flows in some of California's most important rivers and streams. An outline of the final bond can be found here.
Governor Brown also announced that he vetoed identical legislation, SB 866 by Senator Lois Wolk (D-Davis). A veto message can be found here.
For full text of the bills, visit: http://leginfo.legislature.ca.gov