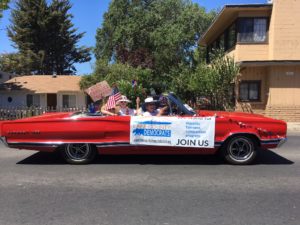 Some Democratic Club of Lake County members showed their patriotic pride recently.  They rode in a classic car owned by Dave and Mary Borjon.  The car, a 1967 Dodge Coronet, was entered in the Lakeshore Lions 61st Annual Redbud Parade and Festival, celebrating the Fourth of July.
Riding in the car, from left to right, are Shirley Howland (partly behind flag), Chair of the Democratic Club Susan Cameron, and Mary Borjon (holding pinwheel).  Dave Borjon was driving.  Also participating as parade walkers: Ralph, Pauline and Holger.
The Lake County Democratic Club meets every 2nd Wednesday at 6:30 pm in the Social Hall of the United Methodist Church, 16255 2nd Street, Lower Lake.  All meetings are open to the public.  Membership is open to registered Democrats and dues are $20/annually.  Lake County Democratic Club is an officially chartered club of the Democratic Party of Lake County.