Lisa Morrow, (right) Executive Director of Lake Family Resource Center (Lake  FRC)  was the guest speaker at the Lake County Democratic Club on Wednesday, June 13, 2018.  With her is Democratic Club Chair Susan Cameron (left).  The title of Lisa's talk was "Housing First, Housing Stability."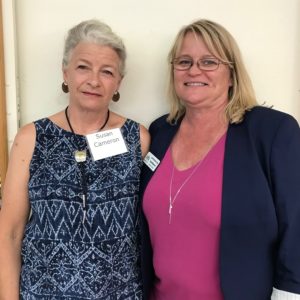 Morrow has been with Lake FRC since its inception; it was incorporated in April 1995.  Their mission – "Strengthening our community one family at a time" is fulfilled through multiple social service programs.  Lake FRC works toward total family wellness which encompasses physical, emotional, spiritual and economic health and strives to connect families with community resources that meet their needs.
Morrow is a long-time Lake County resident who appreciates the pleasures of rural living while at the same time understanding the challenges.  She also maintains involvement with the local youth, currently sitting on the Board of Directors for the competitive swim team and serving as a member of the Lake County Children's Council.  Morrow is a 2018 Ruby awardee and a member of Soroptimist International Clear Lake.  She enjoys balancing her responsibilities with an active role in her daughter Shannon's life.
The Lake County Democratic Club meets every 2nd 
Wednesday
 at 
6:30 pm
 in the Social Hall of the United Methodist Church, 16255 2nd Street, Lower Lake.  All meetings are open to the public.  Membership is open to registered Democrats and dues are $20/annually.  Lake County Democratic Club is an officially chartered club of the Democratic Party of Lake County.