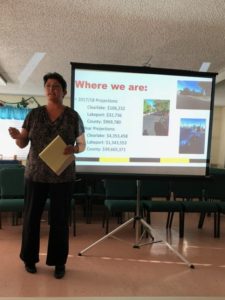 Our guest speaker for the July 11, 2018 meeting was Mireya Turner, Mayor of Lakeport.  She spoke on the benefits Lake County will yield from taxes now being collected under SB1, commonly known as the gas tax.  The Road Repair and Accountability Act of 2017 (SB 1) is a long-term transportation solution that provides new revenues for road safety improvements.   In year 2018-19 alone, an infusion of over $2.5 million dollars will be allocated to Lake County and over the next 10-years, the county will receive over $39.5 million.
Under Proposition 69 (passed in the June primary election), this funding guarantees transportation funds can only be used for transportation improvement purposes and not for other projects.  Ms. Turner understands the importance of these funds to our community; we asked her to speak to our Club membership to explain what's at risk with repeal efforts underway.
Mireya currently serves as the Mayor of Lakeport.  Raised as a Marine Corps "brat", she has lived on both the East and West coasts, as well as abroad. She earned her BA in History from Bryn Mawr College in Pennsylvania, and her Masters in Public Administration from National University.
She has lived in Lake County since 2000.  Ms. Turner served seven years with the Board of Supervisors and now works as a Planner in the Community Development Department as well as serving on Lakeport City Council.  She finds it fascinating to both work with the County and serve the public through the council in the City.
She discussed the ways our community will benefit from SB 1 revenues.  Business leaders and working families from across the State oppose the repeal of SB1 legislation because it would eliminate 68,000 good paying jobs and wipe out $183 billion in economic investments as thousands of road construction projects are put to a stop.  Come learn the facts on July 11th.
The Lake County Democratic Club meets every 2nd Wednesday at 6:30 pm in the Social Hall of the United Methodist Church, 16255 2nd Street, Lower Lake.  All meetings are open to the public.  Membership is open to registered Democrats and dues are $20/annually.  Lake County Democratic Club is an officially chartered club of the Democratic Party of Lake County.